If you have followed me for a longer time, you might remember that two years ago CHANEL invited me on a trip to their Research and Development center in Paris. There they showed me their new Le Volume Révolution mascara: the first mascara in the world with a 3D-printed brush. If there is anything I love than it is the combination of innovation and beauty. There is no other brand who does that like CHANEL. This season CHANEL is launching a new Eyes Collection 2020 with new innovations and new products.
LE VOLUME STRETCH DE CHANEL
Since the Le Volume Révolution mascara launched two years ago, it has been stuck in my daily make-up routine ever since. So when I saw the news that CHANEL uses their new innovations yet again and they are introducing: LE VOLUME STRETCH DE CHANEL, I was very curious.
Now let's go in depth about these new innovations. To create this new mascara, CHANEL worked with three different departments: Packaging and Innovation, Makeup Creation Studio and CHANEL Research. This resulted in a mascara brush which unveils an elegant, streamlined and curved shape that is extremely precise: five branches of two rows of bristles arranged in an elliptical shape with a micro-cavity at the center. This was only possible with 3D printing by ERPRO 3D Factory, a start-up specialized in this technology, the frontiers of product design are pushed even further.
You can imagine how complex it was to design it, that's why the mascara brush of LE VOLUME STRETCH DE CHANEL is protected by four patent applications.
The bristles of the brush form a spiral with spikes that catch, roll and lengthen lashes. This brush also makes it easy to seperate your lashes one by one, for a makeup result that maximises volume, length and curl. Just place the brush at the roots of the lashes and rotate the wrist to roll and stretch lashes outwards.The stretch formula leaves a flexible latex-like film that lengthens and stretches lashes to infinity as you can see in the pictures below. Tip: LE VOLUME STRETCH EXTRÊME can be removed easily with warm water.
LE LINER DE CHANEL
Something else which is new to the eye makeup family is the LE LINER DE CHANEL. It comes in seven shades including four limited-edition colors with metallic finishes. As you can see from the pictures, the packaging is sleek as always. The liquid eyeliner has a very flexibele, extra thin felt tip to help you stylize eyes without smudges!
LE LINER DE CHANEL – 512 NOIR PROFOUND
LE LINER DE CHANEL – 516 ROUGE NOIR
LE LINER DE CHANEL – 524 GRIS ARGENT
LE LINER DE CHANEL – 522 BRONZE DORÉ
LE VOLUME STRETCH + LE LINER (512) DE CHANEL
LE VOLUME STRETCH + LE LINER (516) DE CHANEL
EYE MAKEUP REMOVER
So after trying out all this new beautiful CHANEL eye makeup, it's time to take it off. And what's a better product than the CHANEL Démaquillant Yeux Intense? This eye makeup remover is both effective and gentle for the eye contour and will cleanse and protect your lashes perfectly. It is suitable for sensitive eyes and contact lens wearers ánd it's fragrance-free. I also like to use this eye makeup remover to remove lip makeup, works amazing as well!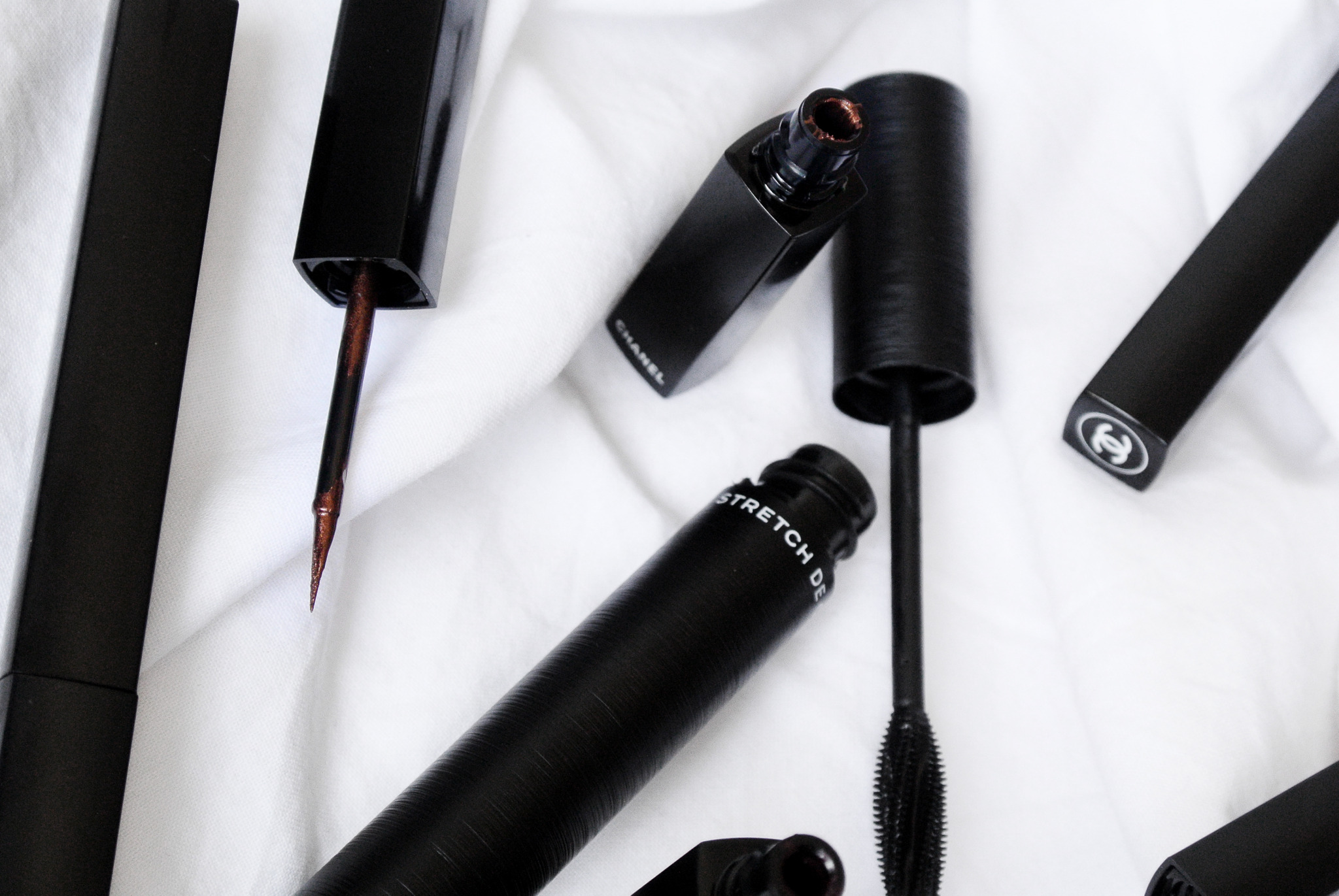 The CHANEL eyes collection 2020 is now available online!