We can all agree that january and february are not the most exciting months. The only thing that I'm looking forward to are the launches of new fragrances and makeup collections for spring. We are starting off with a new exciting addition to the Miss Dior fragrance line: Rose N'Roses.

"Make me a perfume that smells of love" Christian Dior. Miss Dior is a hymn to love, emblematic of Dior's femininity and Couture spirit.  A tailor-made trail with a modern, rebellious and elegant character.
Let's first start off with the iconic Miss Dior bottle, which has an interesting story. It embraces both masculine and feminine codes of style. The houndstooth motif engraved in the precious glass recalls the British men's fabric. The poignard bow tied around its neck creates the link between Couture and Fragrance, calling to mind both a bow tie and a women's hairstyle.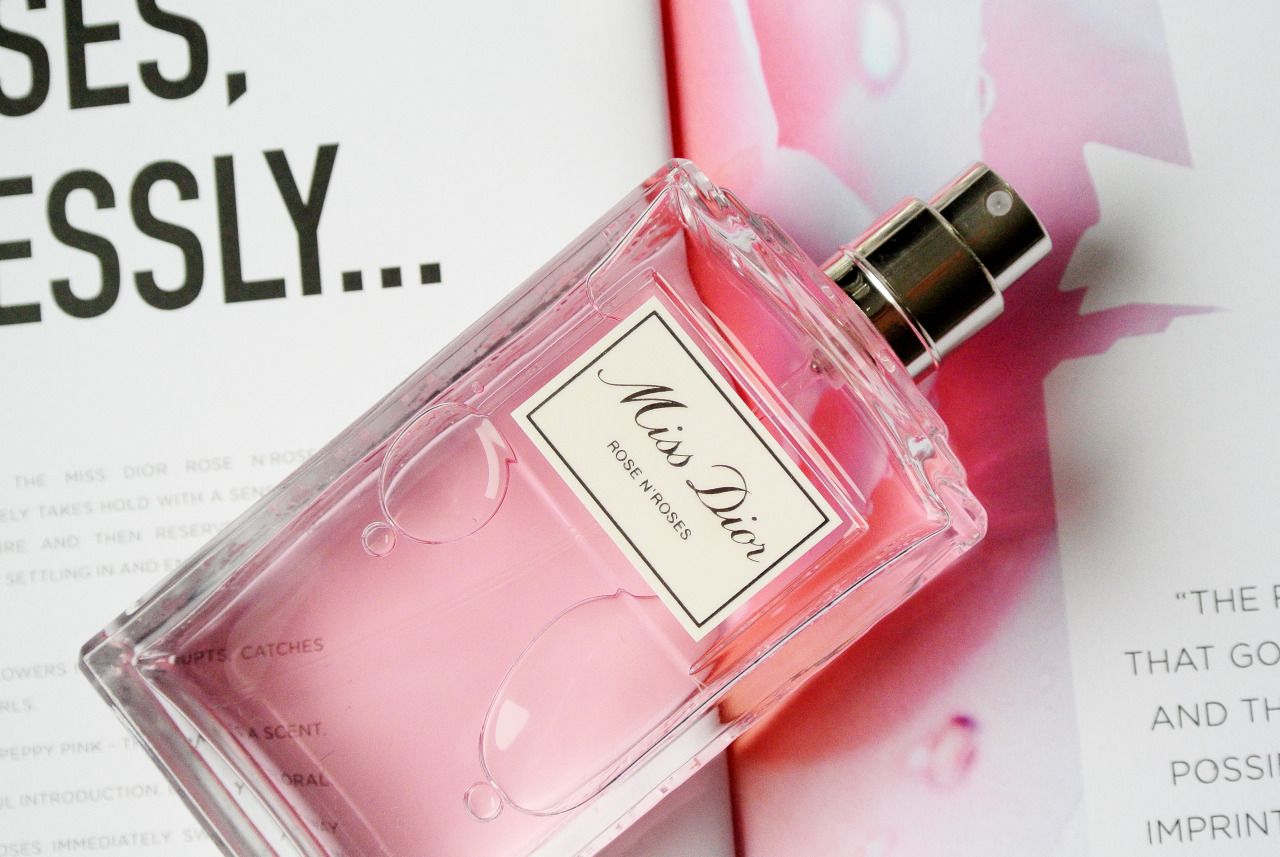 Top notes: Bergamot, Geranium, Italian Mandarin
Heart notes: Grasse Rose, Damask Rose
Base notes: White Musk
"The rose is a classic, that goes with everything and thus offers endless possibilities to shape it. Imprinting one's signature on this universal flower is an exciting exercise in style."
With Miss Dior Rose N'Roses, the Dior Perfumer-Creator: Francois Demachy, did not want to create a rose, but rather the incarnation of a floral profusion. He wanted to renew with that powerful feeling of 'nature', like when he was a child and first saw the field of flowers blooming in may.  He wanted to be as close to the flower as possible. And he definitely succeeded with creating Miss Dior Rose N'Roses.
Miss Dior Rose N' Roses is a chic and feminine but yet very modern fragrance. It's not sweet, not heavy and also not too citrusy, instead it smells like a realistic rose scent with a touch of musk. It has the right balance between sexy, but still romantic and sparkling. The fragrance also has something vintagy or old fashioned in it, something I haven't noticed in the other Miss Dior fragrances. So if you already own a Miss Dior fragrance, I can promise you, it smells very different. I have worn it now an entire week in a row, and even received compliments from strangers! The only remark I have so far, is that it doesn't last long on my skin. But if you if you combine it with the Miss Dior Body Cream / Body Mist and the Hair Mist, this problem is easily solved.
Miss Dior Rose N' Roses
Miss Dior Rose N' Roses – Eau de Toilette – 50ml – € 84,00
Miss Dior Rose N' Roses – Eau de Toilette – 100ml – € 120,00