The more products I discover form Charlotte Tilbury, the more I fall in love with the brand. I have been using items such as the Hot Lips lipstick and Glowgasm palette on a daily base in my makeup routine, and can't wait to discover more in the future. Today I will be reviewing the Airbrush Flawless Foundation, which has an incredible shade range, which made me very excited to try it out!
Flawless is a feeling! Charlotte's NEW innovation foundation is the secret to a flawless, poreless-looking, confident complexion! A stay all day, weightless, full coverage formula with a natural matte finish! This is a hybrid magic skincare foundation for EVERY occasion! Why? It contains Charlotte's magic matrix of ingredients!
Let's first start off with the gorgeous packaging of the foundation: it comes in a frosted, matte packaging with rose gold details and has a pump. I noticed that I didn't need a lot of product to cover my face, 1-2 pumps is enough. Just be sure to blend the foundation quickly when you apply it to your skin, because it dries fast! Once you applied it to your face, you're going to notice that it covers every little mark on your face. It's extremly high coverage and truly gives your skin a flawless and matte finish. Especially if you have a combination or oily skin, it's the perfect finish. If you have a dry skin, the foundation can look a bit more cakey, because of the high coverage. Something else that I noticed about the foundation is that it also stays perfect on your skin the entire day, which makes it perfect if you can't touch-up if you are on to go. One of my favorite high coverage foundations that's currently on the market!
Make sure to find the right color, because the Airbrush Flawless Foundation comes in many different shades. Every shade also comes in 3 different tones: cool, warm and neutral. I suggest you to try the foundation at a Charlotte Tilbury counter to find the perfect match!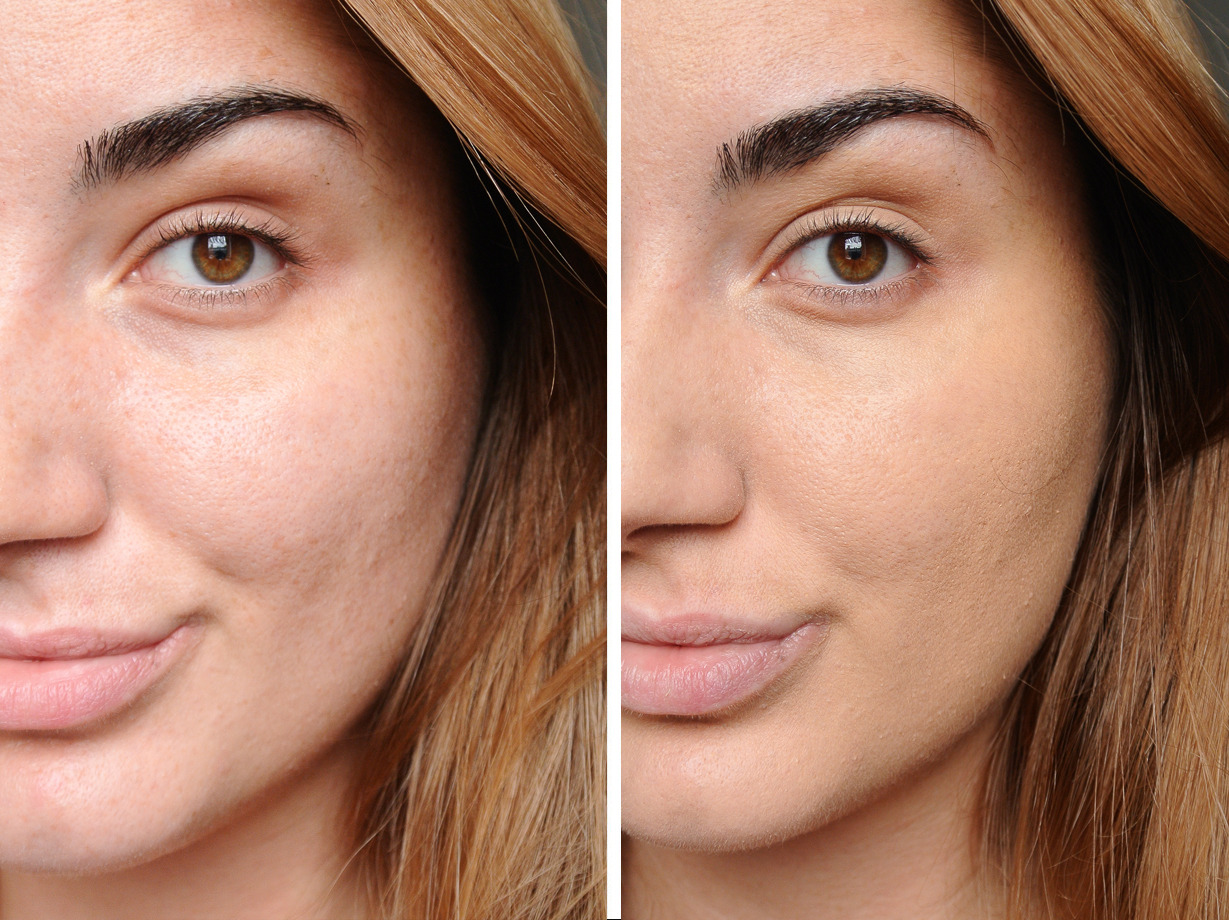 Left: no makeup | Right: wearing the foundation in 05 Neutral
Available in 44 shade ranges
Charlotte Tilbury Airbrush Flawless Foundation – € 40