Let's be honest, we could all use a little break from this 'new' reality. Now that the borders are slowly opening again, you might be planning your next holiday or staycation as well. Today I will be taking you on a journey to three different places: Biarritz, Deauville and Venise. Even though we are not actually going to visit these places, when you smell the LES EAUX DE CHANEL fragrances, it really feels like you are.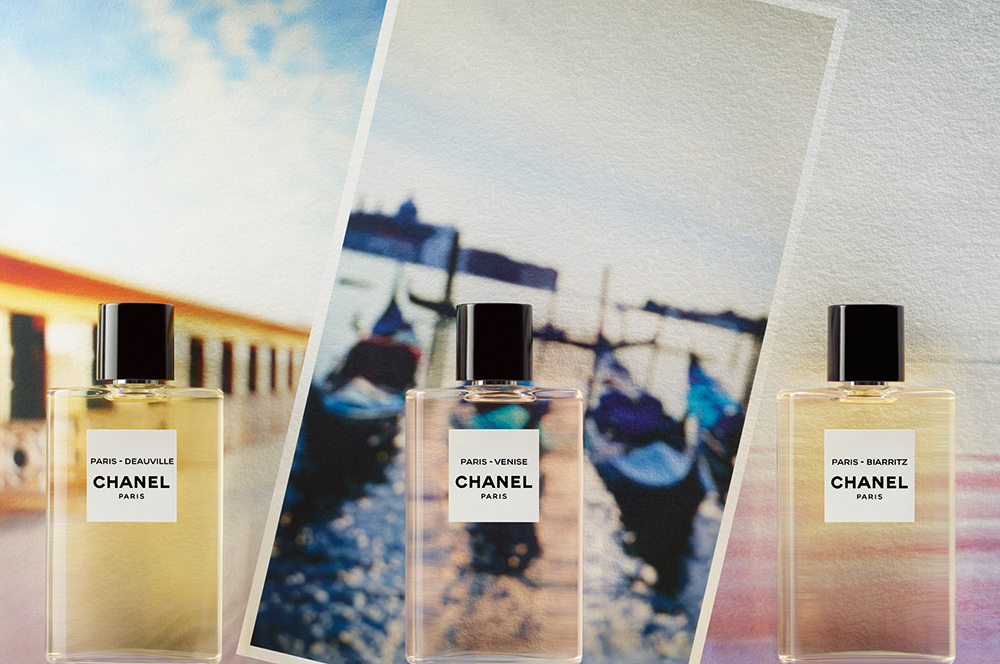 LES EAUX DE CHANEL capture the spirit of three (now 4) destinations that left a profound mark on Gabrielle Chanel's life and style. Deauville, Venice, Biarritz: these three cities of water are the inspiration for these fragrances illuminated by Sicilian and Calabrian citrus. With a single spray, LES EAUX DE CHANEL fragrances procure a feeling of freshness so vivid it takes you on a journey.
In 2018 these three fragrances were the first ones in the LES EAUX DE CHANEL line. Last year another  fragrance was added: PARIS – RIVIERA and I heard there was a fifth one on the way, so let's hope it will be relased this year. I received this travel set last year, but since I didn't review it on my blog (just on Instagram) and it's still sold, I really wanted to share it, since I use it so much.
The exclusive LES EAUX DE CHANEL travel set comes with 3 x 50 ml fragrances, 3 post cards and a small CHANEL pouch to take your fragrance with you wherever you go. You can buy this set for travelling purposes, or just to try out different fragrances for the summer. Even though the fragrances contain 50ml (which isn't your usual travel size), the design of the bottles are thin and small, which makes it so easy to carry them in your purse.
LES EAUX DE CHANEL – PARIS – DEAUVILLE
Top notes: Basil, Orange, Bergamot, Lemon, Lime, Petitgrain
Heart notes: Jasmine, Rose, Green Notes
Base notes: Patchouli
Paris – Deauville is an aromatic-citrusy fragrance that possesses a natural freshness inspired by the Normandy coast where Gabrielle Chanel opened her first boutique in 1913. The fragrance opens with green nuances that resemble clean, fresh air. Aromatic green basil notes are combined with Sicilian orange. The patchouli in the dry down makes the entire fragrance very sophisticated and elegant at the same time. Deauville is definitely the strongest and most longlasting fragrance of all three in this collection.
LES EAUX DE CHANEL – PARIS – VENISE
Top notes: Orange, Bergamot, Lemon, Petitgrain, Pink Pepper
Heart notes: Neroli, Iris, Rose, Geranium, Ylang-Ylang
Base notes: Benzoin, Orris, Tonka, Vanilla, Violet, White Musk
Paris – Venise is a fresh oriental fragrance inspired by one of the favorite cities of Gabriele Chanel – Venice. In 1920, this city meant love at first sight to her and a fresh start after the death of Boy Capel. The Baroque and Byzantine art works of Venice became an inspiration for her style. Paris – Venise as a perfume represents the border between the East and West, the contrasts of light and dark tones, as well as freshness and sensuality. It includes notes of neroli in combination with ambery accords of vanilla and tonka and is the warmest fragrance of all three. Since my favorite fragrance note is vanilla, you can already see why this is one is my favorite.
LES EAUX DE CHANEL – PARIS – BIARRITZ
Top notes: Orange, Bergamot, Lemon, Grapefruit, Tangerine
Heart notes: Lily of the valley, Neroli, Green Note
Base notes: White Musk, Patchouli
Paris – Biarritz is described as an exeptionaly fresh and vivacious scent inspired by the energy of the Basque coast. In 1915, Gabrielle Chanel discovered the city of Biarritz, which delighted her with its at the same time sporty and sophisticated atmosphere and where she opened the first couture house across from the casino. The fragrance contains sparkling fruity notes of Sicilian tangerine and lily of the valley. It's definitely the lightest of all three of the fragrances and reminds me of a cologne. It's more masculine than feminine and perfect if you need a light fragrance during those hot summer days.
LES EAUX DE CHANEL
LES EAUX DE CHANEL – Travel Set – 3 x 50ml – €246,-
LES EAUX DE CHANEL – Eau de Toilette – 50ml – €84,-